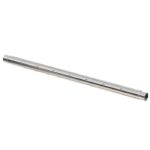 Crain 502 3 ft. Steel Extension Tube
Crain 502 3 ft. Steel Extension Tube
$65.20
Each No. 502 Extension Tube Section can add up to 4 feet 8 inches of length to your stretcher in 4 inch increments. The holes of the tubes are punched rather than drilled for precision and durability. The spring buttons are flat on their top faces for smooth adjustment. The buttons are precisely located within the inner tube, so that they retain hold the outer tube on the inner tube during transport. Works with other standard size diameter poles. Closed length: 2 foot 10 inches. Range of useful length adjustment: 3 foot 4 inches to 4 foot 8 inches. Net weight: 6 lbs.
Crain 502 3 ft. Steel Extension Tube
Extra extension tubes give you extra length for big jobs.